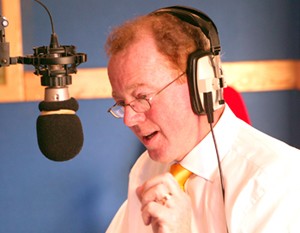 Your Money, This Week
with John Lowe, the Money Doctor
Each week, John Lowe, the Money Doctor, brings you the top news stories that affect you, your families and your savings.
John is available to discuss live on air the news stories below.
This week:
3. Landlord tax breaks planned to solve housing crisis.
4. New debt resolution service faces criticism.
5. Landlords are to face €15k fine for refusing rent allowance tenants.
6. Public must explain waste disposal methods
Read The Money Doctor column every week in the Irish Daily Star (Thursdays)
3. Landlord tax breaks planned to solve housing crisis
Tax breaks for landlords are being proposed ahead of the budget as a means of finally tackling spiralling social housing waiting lists.
The plan is being strongly considered as the Coalition desperately tries to bring the housing crisis under control. There is a growing desire within Government circles to provide greater incentives to encourage landlords to take on families who are living on social welfare payments such as rent supplement.
The numbers lingering on social housing waiting lists have reached their highest level to date – with several thousand applicants lingering for over a decade in parts of the country.
The Department of Environment has drafted proposals that would see tax relief being offered to landlords who sign up to the so-called RAS and HAP housing schemes, which are targeted at social welfare recipients and the long-term unemployed. The plans have emerged as crunch budget talks begin today between Finance and Environment Officials on the Government's housing package. Environment Minister Alan Kelly wants to ensure agreement is reached on a much-anticipated rent certainty package ahead of the Budget.
Issues such as transforming Nama into a housing agency, the roll-out of modular housing and the homelessness crisis are all expected to be discussed as part of the housing strategy in the Budget. But the emergence of plans for a tax break for landlords illustrates the growing concern about the social housing crisis across the country. With just under three weeks to go until Budget 2016 is unveiled, negotiations between different departments are intensifying. Fine Gael figures, including Housing Minister Paudie Coffey, are understood to be pushing for a suite of measures aimed at addressing housing supply.
One of these measures relates to reducing development levies on vacant sites in a bid to rejuvenate the construction sector. "You have a situation where there are 18,000 sites that have planning permission and yet they are not being developed – something has to change," said a Government source. But Mr Kelly is also desperate to secure agreement on his long awaited rent certainty package in the coming days so assurances can be provided to tenants ahead of Budget day. The overall package is likely to include the linking rent to the inflation over a period of a number of years, as well as the creation of long-term leases between landlords and tenants.
The news comes as the Nevin Economic Research Institute (Neri) urged the Government to reconsider plans for tax cuts in the Budget, and instead take what it described as a more strategic and long-term investment approach.
Ahead of the publication of its latest economic commentary, the trade union-funded think tank said tax cuts won't grow the economy in the long run. It claimed they were more likely to increase the wealth and income divide.
Increased investment in strategic infrastructure, in research, and in the early years of childhood would all help to increase the economy's future. Neri is forecasting growth this year of around 6pc, dropping to 4.1pc next year. Total employment will reach two million sometime toward the middle of next year, the organisation is predicting. The unemployment rate is set to average 9.5pc this year, falling to 8.6pc in 2016 and 8.3pc in 2017.
 4. New debt resolution service faces criticism
A British charity is to provide a bank-backed debt resolution service in Ireland beginning next month. StepChange has agreed funding of €6m from the five main banks to provide advice and restructuring plans over the phone.
Long-term debt remains stubbornly high even though mortgage arrears levels are falling. The British charity has announced it will negotiate on behalf of debtors in a free service beginning mid-November. Unlike other groups, StepChange is backed by the five main banks. It will take on borrowers with mortgage, credit card and other debts from any institution. However, the Irish Mortgage Holders Organisation, which has deals in place with two banks, has criticised StepChange's funding as giving control to the banks.
StepChange has rejected the suggestion, insisting it is independent. Speaking on RTÉ's Morning Ireland, StepChange CEO Mike O'Connor said that while it is offering the same service as others already available in Ireland, it can provide a bigger and more experienced service. "Ultimately the banks and other creditors, credit unions, the utility companies, will have to take commercial decisions but we'll be on the side of the person in debt," he said. The banks meanwhile say it is not a way for them to bypass the existing Insolvency Service of Ireland.
5. Landlords are to face €15k fine for refusing rent allowance tenants
Landlords face fines of up to €15,000 for turning away tenants who claim rent allowance under new laws coming into effect in a matter of weeks, it is being reported.
Homeowners who discriminate against tenants – solely on the basis that they receive state benefits – are not currently breaking any law. However, new legislation could be introduced as early as next month to get the system up and running before the forthcoming General Election.
Figures show that a record 83 families became homeless last month and the problem is escalating in urban areas. The Department of Justice confirmed that the Employment Equality Amendment No. 2 Bill has passed all stages in the Seanad and is expected to be through the Dáil "by the end of the year".
It will be 'policed' in the same way as any allegation of discrimination under equality legislation. The Equality Tribunal, which becomes part of the new Workplace Relations Commission on October 1, will adjudicate on complaints of discrimination. It makes binding judgments – unless appealed to the courts – and can award compensation to victims of discrimination. Given that the tribunal is independent, the Department of Justice said it could not "speculate" as to the level of financial penalties that may be handed down. However, a spokesman said existing legislation allows for compensation that is intended to be "dissuasive", by linking the maximum amount that can be awarded to the jurisdiction limits of the District Court, as they are set from time to time.
John Lowe the Money Doctor said "Anyone who wins a case on the grounds of unlawful discrimination can be awarded the maximum amount of €15,000." The proposed legal move has angered landlords, who accuse the Government of engaging in a "cosmetic exercise" in order to be "seen to be doing something". There have also been complaints that the Coalition is ignoring more pressing issues, such as rising rents and the lack of available housing.
Vincent McNamara, of the Residential Landlords Association, strongly refuted claims that property owners shun those on state benefits. He said: "Currently, there are some 150,000 tenants on rent supplement, in private rented accommodation. Landlords don't refuse people because they're on rent supplement but they want people who have a track record of paying on time and being compliant. While most tenants on rent supplement do observe the rules, the majority of non-compliant tenants happen to be on rent supplement. That's where the problem arises. The Government wants to be seen to be doing something but this is really unnecessary."
Meanwhile, Mike Allen, Focus Ireland's Director of Advocacy, has said a more radical approach is required if landlord discrimination is to be stamped out for good. "This legislation won't make any difference. What's really needed more than anything is an increase in rent allowance, in order to secure tenancies," he said. "The levels of rent supplements are between 20pc and 30pc below what landlords are looking for "What the Government gives people is completely out of sync with what's available out there in the market."
In Dublin, an average of 70 families have become homeless every month so far this year. The Simon Community said the number of properties available to rent has plummeted by 80pc since 2009, while rental prices have increased by more than 20pc since June 2013.
However, rent allowance limits have not gone up during this time frame. There are currently 3,285 adults and 1,383 children using emergency accommodation. In total, 657 families are sheltered in temporary accommodation.
6. Public must explain waste disposal methods
Householders who do not use authorised waste collectors to take away their domestic rubbish will in future have to explain how they get rid of their waste to council officials or face criminal prosecution.
Legislation designed to crack down on the problem of illegal waste will, from next year, give local authorities the power to ask householders to reveal to them how and where they are dumping their rubbish. The measure, expected to come into force on July 1, 2016, is likely to be welcomed by the 1.2m existing customers of kerbside waste collectors, most of whom pay annual charges in excess of €200.
It is estimated that around 330,000 households across Ireland may not use one of the authorised methods of disposing of domestic rubbish. The Environmental Protection Agency (EPA) and local authorities around the country have reported increase levels of illegal dumping over the course of recent years. They have also been concerned about the low rates of householder participation in kerbside waste collection in some areas.
However, the problem to date for local authorities is that they had no access to information to allow them to identify individuals who are not customers of bin collectors or other waste disposal facilities. Although there is no specific legislation which requires householders to sign up for a kerbside waste collection service, they do have an obligation to lawfully dispose of their waste.
Under the Waste Management Act 1996, anyone who fails to properly dispose of their domestic waste is liable for a maximum fine of €3,000 upon conviction at district court level. The legislation also made it illegal for householders to burn their own waste, effectively banning a long tradition of garden bonfires in Ireland. A new law passed this summer by the Dáil — the Environment (Miscellaneous Provisions) Act 2015 — places an onus on waste collection permit holders to provide information to local authorities about their customer databases. Among those required to pass on such information will be large bin collection firms such as City Bin, Greenstar, Oxigen, Thornton's, and Panda.