For years,
John Lowe
's handbook has helped thousands of people get to grips with the basics of budgeting and learn how to save cash in all areas of their life and importantly what to do with it to maximise the return… Now
Money Doctors
is back to give Ireland's consumers and business owners the tips they need to make the most of
2021
.

Whether you buy the book every year or you are just in need of a fresh perspective of your finances, you can trust the Money Doctors to give independent, straight talking financial advice. This fully revised edition includes updates from the previous year, including Budget 2021, a section for first-time home buyers and COVID-19 – the facts and the tax.
SPECIAL DEAL
– book a Zoom 40 minute consultation with
John Lowe of Money Doctors
(€ 130), and a signed copy of the 2021 book will be posted out to you with our compliments. Call
+353 1278 5555
or email
info@moneydoctors.ie.
If you wise to order 2 books or more please emails us at info@moneydoctors.ie and we will contact you on the reduced cost.
Pay by PayPal or credit / debit card here or you can fill in form at the bottom of this page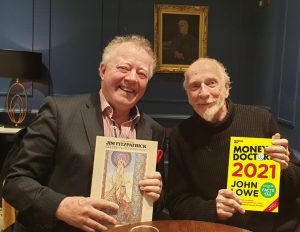 Artist Jim Fitzpatrick and John swap books….
What they say :
"Readable, Reliable, Accessible. This is one doctor that will save you money"
                                                             Joe Duffy, Presenter of Liveline, RTE 1
"Explains complex financial issues in a readily understandable way"
                                                            Pat Kenny, Newstalk Broadcaster
"This is strong financial medicine from the Money Doctor and is a must-read that I regularly refer to"
                                                            Jim Power, Economist
"If in your financial life you value prevention rather than cure, then the Money Doctor Finance Annual is essential reading."
                                                            Brendan O Carroll, writer of the BAFTA award-winning show Mrs. Brown's Boys
Fill in form below to order book
Providence Finance Services Limited trading as Money Doctors is regulated by the Central Bank of Ireland