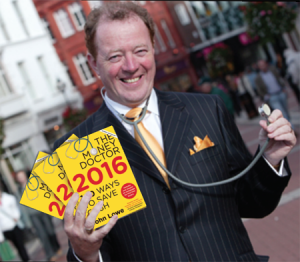 In the latest edition of Money Doctor 2016 there are four Tips for the Top – innovative, competitive or leading edge products or services that deserve special mention and have my endorsement as something that will sit well in your armoury to better manage your money. Over the next four weeks, I will highlight one each week. The first in no particular order is Irish Life's Multi Asset Portfolio funds (MAPS) :
Albert Einstein is accredited for saying compounding is mankind's greatest invention as it allows the reliable systematic accumulation of wealth. In 2015, deposit interest rates were as low as they could go – best 12 month fixed rate was 1.05% ( net 0.6195% after DIRT tax ) and investors were looking for greater returns on their money. Five year interest rates went from 5.21% in July 2008 to 0.39% in August 2015 ( source : Bloomberg ) But investors were still cautious and after the battering taken during the recession, slow to put their toe back into the investment market.
Each person has different investment needs and goals – some for the short term, while others are more longer term. Some are quite conservative when it comes to investment decisions, while others are happy to take a more adventurous approach. It all comes down to finding the right balance between risk and reward.
Individualising stock market selection can prove a mug's game but when three features stand out on one particular investment, you can only take note and consider.
Irish Life MAPS, their Multi Asset Portfolio funds were launched in May 2013. Those three features?
Instead of individually selecting stocks, 5 funds were created representing differing levels of risk and return and all you had to do was stick to your lane. Choose from these five multi-asset funds ranging from the really cautious funds – cash, bonds and a small amount of shares ( MAPS 2 ) to the more risky funds – almost totally made up of shares including a good exposure to emerging markets ( MAPS 6 ) Bear in mind, if you want growth in your investments, there has to be an element of risk. The higher the risk, the potentially greater the return but also the potentially greater the loss.
Buying individual stocks also means that the only way of exiting is to sell those stocks and take the loss/profit. With MAPS you don't have to leave the investment – simply move/swap to more cautious / more aggressive funds. Therefore you do not crystallise any potential loss/profit. Bear in mind there is no DIRT tax payable on these investments… gross roll-up allows you to accumulate profits and only on withdrawal is there a tax on any profit made ( called withdrawal tax at 41% ) OR at the end of the 8th year if no withdrawals were made and there has been profit in the investment during that period, that withdrawal tax is then payable.
Dynamic Shares to Cash (DSC) – for those who are not au fait with the ups and downs of the stock market, this feature allows Irish Life to reduce the amount of your investment that's held in shares and move it to cash in the event of a global meltdown or similar catastrophe. DSC is just another way those funds can help you to invest and know that you can sleep in peace.
How Irish Life MAPs can help you spread the risk
A golden rule of investing is diversification or spreading the risk. And when you think about it, it's just common sense. Putting all of the money you have to invest in just one company's shares is a really high-risk strategy. Diversification across different investments can help reduce risk.
Multi-asset investing
Diversification isn't just limited to investing across shares of different companies. It can also mean spreading your money across different types of assets, such as shares, bonds and property and also investing in a range of countries. Each asset responds differently to changes in investment conditions. Some could go up in value, at the same time as some go down. So, spreading your money across assets can help to smooth out your investment over time. You should keep in mind that even a well-diversified portfolio can still fall in value.
What are the benefits of investing in an Irish Life MAPS fund?
Simplify your fund choice:
With so many funds in the market to choose from, choosing the right one can be daunting. With five distinct funds to choose from – MAPS funds make this choice a lot simpler.
Choice of risk level:
Each of the five MAPS funds is managed on an on-going basis to make sure it still matches the level of risk you've chosen initially. However, if your attitude towards risk or your circumstances change, you can simply switch to another MAPS fund that offers a higher or lower level of risk.
Diversification:
These multi-asset funds invest in a broad range of assets. This helps to spread your risk.
Monitored, reviewed and actively managed for you:
The assets in these funds will all perform differently at different times. So, each fund is monitored, reviewed and actively managed by Irish Life's investment managers.
Ease of access:
These funds are priced daily and are available across a range of pensions, savings and investment products. Plus with Irish Life's on-line services and apps, you can track the performance whenever and wherever you want and can even switch funds, if you want.
Be aware though that these funds can fall as well as rise in value and may be worth less than what was paid in. MAPS funds will not be suitable for you if you do not want to take any risk. As with all managed funds, there are associated annual management charges and there may be early exit fees. Email me for details.
IRISH LIFE – Established in 1939, Irish Life is Ireland's leading life and pension company. Since July 2013 Irish Life has been part of the Great-West Lifeco group of companies, one of the world's leading life assurance organisations.
Irish Life is committed to delivering innovative products backed by the highest standards of customer service and, as part of Great-West, has access to experience and expertise on a global scale, allowing the company to continuously enhance its leading range of products and services. For further details contact me directly (jlowe@moneydoctor.ie) or visit www.irishlife.ie
Irish Life Centre,
Lower Abbey Street,
Dublin 1 ( open 9am-5pm Monday to Friday )
Tel +353 1 704 1010 (switch +353 1 704 2000)
Mon-Thurs 8am-8pm, Fri 10am-6pm, Sat 9am-1pm
eMail : customerservice@irishlife.ie