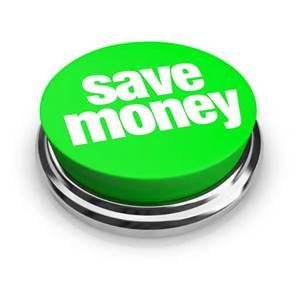 When it comes to tightening the purse strings, we all know the first steps to take – and the first things to go. No more afternoon lattés; volunteering as designated driver on nights out; planning staycations instead of going abroad. But sometimes, it's the things that are a little less obvious that can make the biggest difference – the creature comforts we're so used to having, we couldn't imagine being without…here are the Money Doctor's top tips…
Utilities
Don't worry: I'm not advocating trading in electricity for candlelight – but there's a lot to be said for re-examining your utilities providers once a year. Many people enjoy the ease of sourcing their gas and electricity from the same provider – but you could save literally hundreds of euro by switching from a dual-fuel bundle to separate providers. For example, an Energia customer in an urban area, with average consumption on the Smart Choice Dual Fuel tariff, could save over €430 by moving their electricity to Bord Gáis Energy and their gas to Flogas.
Just remember – if you switch before the end of your contract, you could face a charge of up to €100, depending on provider. So it pays – literally! – to keep a list of your contracts, be they for gas, electricity, phone, internet, TV or anything else, along with their end dates in your phone. Then, set an alarm the month before your contracts are up and do a bit of market research in good time to change. Remember, your current provider may offer you a discount just to keep you on their books! In the meantime, the rule is switch off and plug out when not in use.
Internet and entertainment
With fibre-power broadband finally filtering out across the country, now is an excellent time to compare internet providers. There are huge variations in offers available from Eir, Sky, Vodafone and Virgin; and if you can bear the hassle of getting a dish installed from one company when you're using to having an aerial from another, it can be really worth it.
Top tip? While almost all offers are available to buy online, try to make the effort to phone the company you're interested in joining. A deal can often look perfect, until you find out that the broadband speed is slower than what you currently have; or you might have seen something that looks just right, apart from the 160 extra channels you don't need. And do you need those movie channels ? Where possible, speak to a human – and remember, your money matters, so don't be afraid to push for the best deal.
Banking
Like I always say, your bank will not reward you for loyalty, so never be afraid to shop around. Because your banking is so often tied up in the biggest outgoings in your household budget – mortgage, car loan, college loan – this is really the best place to start when you're trying to save money. If you're already saving, take a good look at the rate you're getting; many banks offer less than 0.5% AER; but if you open your current account with the same bank, you can gain additional benefits. Opening a Regular Saver Account with KBC will net you 0.5% AER, for example; but opening an "extra" current account with them will land you a further 2% AER.
It's also a good idea to think about how you pay for things on a daily basis. If you use your debit card a lot, consider switching to Post Office's Smart account or Revolut: the latter is a debit card operated through VISA or Mastercard, depending on your location. It works in just the same way as a debit card with a traditional bank, except you can top it up via an app on your phone. Spending is free, no matter how many purchases you make; and ATM withdrawals are free up to €200/month, after which a 2% fee applies. Currency-exchange transactions are free up to £/€5,000/month, after which you will be charged 0.5% per transaction. N26 is another online bank worth looking at.
Writing a financial plan
Last but not least: this is the single most important step when it comes to saving money. While everything listed above can help with choices already made, a financial plan will guide you in choices yet to come followed closely by completion of an indepth budget plan. If you're intimidated by the idea, haven't made one previously, or just need some expert advice, email me for a free budget planner spread sheet template or call Dublin 278 5555..