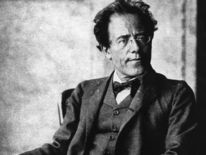 It can sometimes pay to hold on to those scraps of paper or even music manuscript gathering dust in your attics or trunks in the basements..The complete manuscript of Gustav Mahler's Second Symphony has been sold by Sotheby's for a record £4.5m ( € 4.89m ) on Tuesday 29th November 2016.
The handwritten 232-page score – known as the Resurrection Symphony – includes the composer's deletions, alterations and annotations. It was owned by US businessman Gilbert Kaplan, who became obsessed with the work after seeing it performed at New York's Carnegie Hall in 1965.
"Zeus threw the bolt of lightning. I walked out of that hall a different person," he said. Kaplan dedicated his life to conducting it before his death earlier this year. "The result establishes a new auction record for a musical manuscript," Sotheby's said in a statement. The auction house said the only comparable sales were of a manuscript of nine Mozart symphonies for £2.5 million in 1987 and the manuscript of Robert Schumann's Second Symphony for £1.5 million in 1994. The Austrian composer penned nine symphonies and left a tenth unfinished …"The work retains the form in which Mahler left it, reflecting and revealing the compositional process for the work," said Sothebys.
The symphony opened for the first time in Berlin in 1895 and was performed with a 90-piece orchestra, soprano and alto soloists, chorus and organ. "This was the first major work that saw the composer confront the universal themes of life and death, which were so characteristic of his oeuvre," Sotheby's said. This was the only complete Mahler symphony ever sold at an auction, and had a starting price of £3.5m. The new buyer has chosen to remain anonymous.