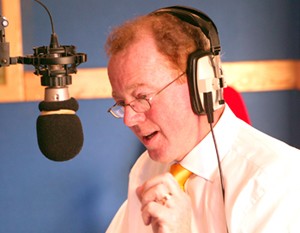 Your Money, This Week
with John Lowe, the Money Doctor
This week:
1. Young home-buyers a priority, Burton pledges
2. Motor insurance premiums 'to rise by another 25pc'
3. Noonan wants review of first-time mortgage cap.
4. 'Rent-trap' tenants pay out €2,400 more than homebuyers.
Each week, John Lowe, the Money Doctor, brings you the top news stories that affect you, your families and your savings.
John is available to discuss live on air the news stories below.
1.    Young home-buyers a priority, Burton pledges
An international think-tank has urged the Government to avoid giving subsidies to first-time buyers, arguing it would push up property prices even further.
In its latest assessment, the Organisation for Economic Cooperation and Development (OECD) warned that while recent property price hikes weren't being fuelled by a credit boom, the rises in both residential and commercial markets could be creating risks of "another damaging property cycle".
The Paris-based body backed the new Central Bank mortgage deposit rules as potentially keeping a lid on price spirals, and, with just weeks to go until the Budget, cautioned the Government against giving sweeteners to first-time buyers to help them get a foothold on the property ladder.
"The Government should avoid subsidies for first-time buyers, as these will be capitalised into prices, aggravating a potential price spiral and making it even harder for those with lower incomes to purchase homes," the assessment states. "A more developed rental market would help moderate the property cycle, reduce household exposure to house price fluctuations, especially poorer ones that will be hardest hit if prices and rents continue to rise strongly."
However, Tánaiste Joan Burton yesterday differed with the OECD and insisted that incentives for first-time buyers must be considered. While Ms Burton said no detailed discussion has taken place in relation to this Budget, she said that helping young people access finance to get onto the property ladder is a major priority for the Coalition.
"The issue of young people and others, who are in a position where traditionally they would have been able to afford to buy a house, clearly that's something that we want to see people who are in that position, being facilitated in terms of finance." Meanwhile, Public Expenditure Minister Brendan Howlin said property taxes will "increase organically over time". He was responding to a claim by the OECD that property taxes and water charges here remain low by international standards and suggested that as house prices rise, a moderate increase in the rate of the local property tax should be rolled out.
Mr Howlin said the focus in the budget is to ensure that the "pressure" of taxation is reduced on workers. But he admitted increases in property taxes are on the cards in the future. "Property taxes will increase organically over time, but there is a fair tax burden on people right now." The biennial OECD report said that while strong economic growth has returned to Ireland and a robust and broad-based recovery is under way, the budget deficit remains too large and public spending pressures are rising.
And OECD secretary general Angel Gurria warned that much more needs to be done to reduce the crippling cost of childcare. "Childcare costs are 40pc of the average wage – the highest in the OECD," he said. "And childcare is critically related to bringing more women on board into the labour market. Much more needs to be done to make childcare affordable, particularly for low income families." Mr Gurria said the Government should make use of the rapid recovery to pay down debt faster. "It's important to keep fixing the hole in the roof until the job is done," he said. "This is the best moment to fix the hole in the roof." The OECD said the tax base must be broadened and more must be done to control health spending. It also said there needs to be a faster resolution through the courts of repossession cases, while skills shortages need to be addressed to help cut the numbers of long-term unemployed. And it called for a slower withdrawal of housing assistance payments and Family Income Supplement as a way of overcoming welfare traps.
It also warned that productivity growth here has been falling for some time, with home-grown small and medium-sized businesses suffering in particular. And it expressed concern that the recent deal on public sector wage increases could, in the "absence of appropriate structures for wage determination", lead to pressure for excessive wage increases.
Mr Gurria said Ireland is the "comeback kid" of Europe's crisis-hit economies and is likely to be the fastest growing economy in the OECD this year.
Budget areas of concern
Tax Cuts – the Coalition is expected to slash the Universal Social Charge by at least 1.5 percentage points next year which will cost about €400m. Tax reliefs available to the PAYE workers will be extended to the self-employed
Childcare – the Government is planning to unveil a childcare package that includes various measures aimed at reducing the escalating costs for young families. It is suggested the package will cost in the region of €200m
Justice – Justice Minister Frances Fitzgerald is seeking €200m to overhaul An Garda Síochána's IT system and buy state-of-the-art vehicles to aid force's crackdown on burglaries by roving crime gangs in rural Ireland
Tax Hikes – Finance Minister Michael Noonan has indicated his intention to increase excise duty on tobacco – a 50c increase would bring in €63m. The minister is also examining the possibility of increasing tax on alcohol
Health – the HSE is demanding an additional €2bn to meet the needs of the health service but this has been deemed 'unrealistic' by Public Expenditure Minister Brendan Howlin
Agriculture – A tax credit for farmers worth around €150, and various agriculture tax reliefs due to end will be extended
Social Welfare – Tánaiste Joan Burton has committed to increasing the Christmas bonus for pensioners and social welfare recipients by 50c ( to € 115 per person, € 200 per couple ) at cost of €120m
Capital Spending – around €450m will be spent on nursing homes and €1bn on flood defence over 10 years
Public Sector Pay – Minister Howlin has already committed to spending around €300m on public sector pay increases.
2.    Motor insurance premiums 'to rise by another 25pc'
Motor insurance premiums are set to rise by 25pc over the next year, a representative body for the industry said. Over the past 12 months premiums had gone up 24pc, and were due to go up by the same level in the next year, Insurance Ireland said.
This would see a typical €600 comprehensive policy rise by €300 over two years.
Insurance Ireland blamed higher claims, as it launched a new report calling for various measures to lower personal injury awards in a bid to stop the surge in premiums. But it denies it is using excuses around higher injury claims to justify massive rises in premiums, with consumers providing a "back-door bailout" for an industry that has been mismanaged.
Asked about the 24pc increase in motor premiums last year, a spokesman added: "We could see the same again next year." He said insurers lost €242m collectively between 2010 and 2014, and inflation in claims was rising at a dramatic rate.
Insurance Ireland said the average level of Circuit Court award was up 14pc last year, with the average High Court award 34pc higher….vehicle insurance premiums had been at unsustainable levels up to now.
Solicitors were encouraging people to reject awards from the Injuries Board and take a court case instead obviously in their own interests rather than that of their clients… 60pc of litigation claims goes on legal costs. Lawyers' fees are not paid when there is an Injuries Board award made. Insurance Ireland said claimants were advised by lawyers to fail to turn up for a medical examination, and were refusing to provide information on loss of earnings.
This means the Injuries Board cannot make an award. Personal injury claims have to first go through the Injuries Board before a court case can be taken. "Approximately 40pc of Injuries Board awards are rejected by claimants, partly because some solicitors adopt a policy of non-co-operation," Insurance Ireland said. Mr Thompson rejected criticism of insurers from the Injuries Board that the high level of premium rises were unjustified. Asked if the insurance industry was seeking a back-door bailout for its own mistakes by hiking premiums, this was denied by Insurance Ireland.
"We are not just laying all the cost back on the consumer. Insurance companies have taken their own actions as well," a spokesman said. RSA, Liberty and FBD are in the process of laying off staff. Insurance fraud added a further €100m a year to overall motor insurance costs, which equates to €50 on the average motor premium.
The recent ruling on Setanta Ireland, which found that the industry-funded Motor Insurance Bureau of Ireland was liable to cover the costs of claims against the company should be questioned.
3.    Noonan wants review of first-time mortgage cap.
Minister for Finance Michael Noonan wants the Central Bank to review mortgage caps for first-time homebuyers. Citing anxiety about constraints in the Dublin market particularly, Mr Noonan said: "There is a shortage of starter homes in Dublin now.
"Builders would say that the application of the prudential regulations from the bank might be too restrictive," he said. "What I'm saying is that market conditions are changing rapidly and there are aspects of it now which, according to the construction industry, are inhibiting starter homes. All I'm saying is the bank should review. If the bank say we're not changing anything then of course I'll accept that."
His intervention comes eight months after the Central Bank introduced loan and income limits to damp down the property market. In the same interview, he said the expanding economy could continue growing for a decade and said the Government parties, if re-elected, would use the proceeds of a flotation next year of shares in AIB to pay down some of the national debt. Arguing there would be no deviation from strict budgetary rules, he engaged in a forceful attack on Sinn Féin and acknowledged the Government parties were likely to lose votes in the election as a result of the Irish Water debacle.
The Minister said the Government is proceeding with a public recruitment process for the appointment of a new bank governor in succession to Patrick Honohan, who plans to retire in November.
He said 30 applications were under review, adding that a shortlist of three candidates would be interviewed. His remarks on the mortgage caps came amid pre-budget meetings yesterday with business and farming interests, among them construction industry representatives. He also met trade unionists and social campaigners. Asked whether he had contacted the Central Bank on the matter, the Minister said he had not.
"I was making up my mind for the last couple of weeks," he said. "My conversation with the construction industry today would suggest to me that there's a difficulty now in providing starter homes in Dublin. "There are a lot of factors playing on that difficulty."
New mortgage rules in place since late January, which were championed by Prof Honohan, included relief for first-time buyers. However, Mr Noonan suggested further steps may now be required because the situation has since changed. "I think the action of the bank was correct at the time and it was prudent at the time," he said. "We have a lot of extra people back to work now, growing housing lists and we have changed circumstances.
"I'm not being critical of the bank but I think anything like this should be subject to review and I would hope that there will one late this year or early next year. I think you should apply caps at different points of economic progress, and keep them under review from time to time."
He added: "They need to match prudential regulation against things like rents. I mean, if you're a couple and you're paying €1,500 a month on rent and you're on the maximum 3.5 multiple [of earnings] your potential mortgage would €1,000 or €1,100. "It seems to me it makes sense to allow people like that to buy rather than to say to them keep paying your rent and accumulate a 20 per cent deposit."
4.    'Rent-trap' tenants pay out €2,400 more than home buyers.
Trapped renters are paying out an average of €2,400 a year more to landlords than they would be charged in mortgage repayments if they bought the same house.
It is now cheaper to buy a family home than to rent everywhere in Ireland except parts of Dublin.However, the shortage of family homes for sale means that many 'reluctant renters' will be stuck handing over hefty rents for the foreseeable future.
A survey of 54 areas around the country has found that in 80pc of places renting was more expensive than buying in the second quarter of the year. Only in areas of south Dublin and the city centre would the loan repayments on a typical three-bedroom house cost more than renting the same property.
The saving in the Leinster region, excluding Dublin, averages €200 a month, based on a variable rate mortgage with an interest rate of 4.3pc. In Munster, the savings add up to €185 a month, while in Connacht they are €224 and in Ulster they are €213.
John Lowe the Money Doctor added that with the lowest rate on the market at 3.45% ( and potentially 3.25% ) the lowest 90% variable rate is 3.92% – over 30 years a € 275K mortgage would cost € 1300.24 per month. This would equate to buying a home for € 305K and the borrowers stumping up € 30K plus costs. Don't forget lenders do have discretion on the 90% loans – 15% of all mortgages can be distributed to those looking for 90% loans.
It comes as experts predict that thousands of families with tracker mortgages are set to benefit from record low interest rates for at least three more years. But existing homeowners on variable rates will continue to suffer from a 'mortgage apartheid', which sees them paying multiples more for their mortgages.
New buyers are being offered cheaper deals, as banks try to lure in profitable first-time buyers, mortgage experts said. The various rates being charged to different borrowers have effectively created a three-tier mortgage market.
Juliet Tennent, an economist at Goodbody Stockbrokers, said it would be at least 2018 before the ECB raises rates. This was because economic growth is sluggish in the eurozone and unemployment is still high.